Worship
We gather together in spiritual community to share with each other life's critically meaningful stories; to hear words of wisdom and insight; and to be uplifted by song. Our worship galvanizes our commitment to care for each other and our commitment to help heal our world.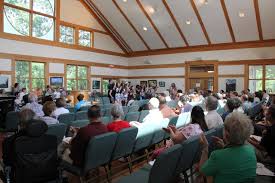 Worship Services are crafted and offered by ordained ministers and by lay members of the church. Services include inspirational words that comfort and challenge, as well as silent meditation and music. Most services feature our Chalice Choir. Other services will feature soloists, ins trumentalists or other featured musicians. Our programs for all ages inspire us, and awaken us to our capacities to make a difference in our own lives and in the world.
Unitarian Universalist worship is grounded in a legacy of hundreds of years of Unitarian and Universalist heritage, and just as often draws from other sources of spiritual wisdom, both old and new, and both Eastern and Western.

Similarly, music during worship ranges from traditional to modern. We are inspired not just by inspired words, music, poetry, but also by the people with whom we journey: the diverse and spirited Unitarian Universalists.