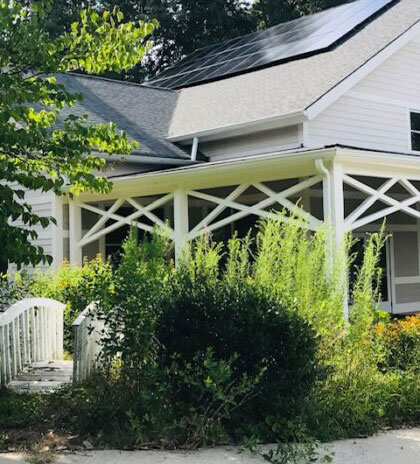 Sustain | Educate | Enjoy
Our Vision:
We deeply embrace the natural world and are stewards of our Earth for now and for the next seven generations. We are respected in our community for environmental action.
Our Mission:
Raising our voices for Life and building one indivisible world with Love
The Green Sanctuary Program
In April of 2013, after a rigorous five year process involving two exhaustive applications, fourteen projects, and the efforts of many to shift old, comfortable patterns of behavior to more sustainable ones, the UUA granted UUMAN official accreditation as a Green Sanctuary.
The UUA's Green Sanctuary Program provides a path for congregational study, reflection, and action in response to environmental challenges. The program partners with congregations to address climate change and environmental justice. Congregations that complete the program are accredited as Green Sanctuaries in recognition of their service and dedication to the Earth.
UUMAN is proud to be recognized as a Green Sanctuary. As one, we live with a deep awareness of our climate crisis and the deep environmental injustices of our time. We commit to four practices, grounded in Unitarian Universalist principles:
Environmental Justice: We commit to partnering with marginalized communities who are hit first and hardest by environmental crisis, addressing human and environmental needs at the same time.
Worship and Celebration: In our worship we honor and celebrate the interconnectedness of existence, inspiring our work and reminding us of what is most sacred and most true.
Religious Education: In programs for all ages we strive to shape attitudes and build practices that are sustainable and spiritually-grounded.
Sustainable Living: We strive to treat the world more gently by using fewer resources and being mindful of the choices we make, both as a congregation and as households.
Earth Ministry Efforts
When we built our new sanctuary, we paved our roads and parking lots with pervious pavement, significantly reducing run-off.
We've installed solar panels as a part of the 2022 Raise the Roof campaign.
We replaced incandescent Sanctuary lighting with energy efficient LEDs.
We installed a highly energy efficient commercial dishwasher (with a two minute cycle) and bought enough china dishware for the entire congregation, allowing us to significantly reduce our reliance on disposables.
We provide cloth napkins for all events that involve food or drink.
We serve Fair Trade, sustainably-grown coffee.
We created a Sustainability Policy to guide our efforts to reduce our carbon footprint.
We invite all who share these values to join us on this journey of connection, sustainability, and hope. Contact Earth Ministry  to get involved.