Lexie Tangney
Director of Religious Education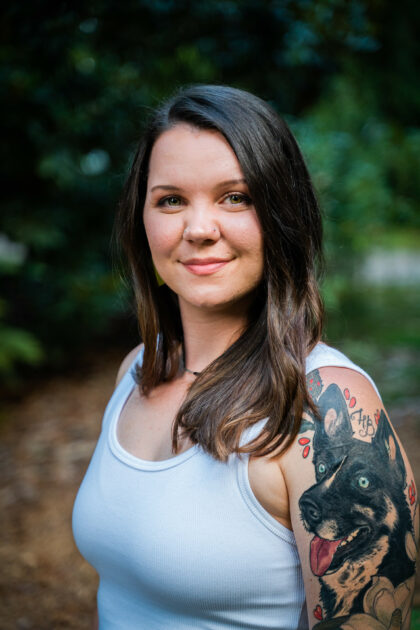 UUMAN creates and nurtures leaders, and at no time is this more apparent than with the appointment of Lexie Tangney as our new Director of Religious Education.
Lexie and her family began attending UUMAN when she was six years old, and she became an active member of the Religious Education program.
Toniann Read was the DRE at the time, and Lexie learned a lot about how to be kind to others from her example. Merry Beth was her first "secret friend"; she completed the OWL program with Randy Blasch and her mother, Jennifer Ratcliffe, as facilitators; attended Youth Con; became aware of her own faith development during Coming of Age with Kirsten Thornante and Cate Conroy and participated in many years of summer camps at The Mountain. A trusted babysitter to Danielle Bender, Raffaella and Joel Shanahan, UUMAN and its ministry with children and youth shaped Lexie and her worldview.
Lexie's life can be summed up with the word "determined." After being diagnosed with Dyslexia and ADHD at age seven, Lexie had to radically
adjust the way she learns and processes information. After graduating as a visual arts charter student at North Springs High School, she moved to North Carolina and started community college at Coastal Carolina in 2017, and successfully earned an associate degree in Biology. Because of her passion for helping others, Lexie became a Certified Medical Assistant and Medical Administrative Assistant, completing this program online due to the pandemic.
When Lexie returned to Roswell in 2020, she began attending UUMAN again and volunteering as an adult. She became an OWL instructor, giving back to a program she considers one of the best things that happened for her as a youth. And when she heard of the opening for a new DRE, Lexie felt moved to apply.
Lexie's vision for the Religious Education program at UUMAN is to help co-create a greater sense of community and camaraderie. She wants to create a safe, welcoming place to explore and show kindness, feel accepted and loved – especially in a world that can sometimes be unkind and unwelcoming. Together with the UUMAN volunteers, she hopes to inspire creativity and community, creating ripples of love that go beyond the UUMAN pond.