Worship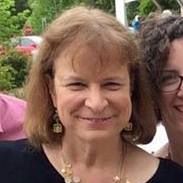 Worship Associates, according to the Rev. Robert Eller-Isaacs who coined the term in 1988, experience "the real gift Unitarian Universalism has to offer its people."1 This is the gift of collaborative pulpit leadership, of working hand in hand with the minister, lay speakers, music director, and other committee members to craft a rich variety of inspiring spiritual services, Sunday after Sunday . . . and on other days as well.
At UUMAN, ours has been a growing relationship between minister and laity, leading to an increased leadership role by Worship Associates. We have undergone training with our Interim Minister Rev. Cynthia Prescott annually and been grateful for her constructive feedback on the Sundays we serve; we've practiced writing and sharing our Worship Associate reflections from the pulpit; we've established Worship Associate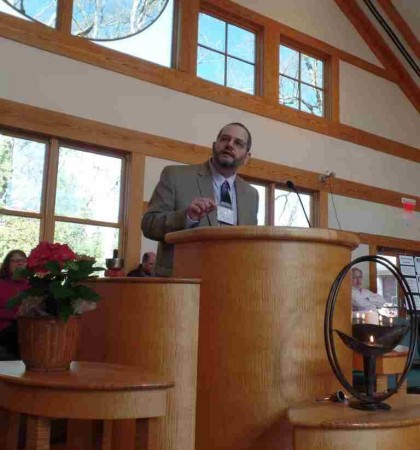 responsibilities both for the Sunday service itself and for the tasks necessary the week prior; and we've developed a flow or smoothness, an increased professionalism, in the process of creating a Sunday service that has integrity from prelude to postlude.
Ours is the job of making sure every logistical concern that is not the sermon itself flows smoothly. We hope that the training and practice we've experienced allow us to facilitate a warm, inviting, and mistake-free worship experience for our beloved congregation. Details and logistics are important to us in that they lead to a more meaningful experience for others. However, under Rev. Prescott's leadership, our role has grown to encompass more than the important planning for steps of a service.
Beginning with our annual retreat, we work together with our minister to identify topics and issues for sermons in the coming year. Rev. Prescott has led the Worship Associates to create a new piece of our Sunday services, the Worship Associates Reflection. This is a three-to-four minute piece written by the Worship Associate in collaboration with the minister about the topic raised in her sermon. With this reflection, members of UUMAN hear more voices from the pulpit on Sundays, and may find an additional aspect of the sermon they can identify with or reflect upon. Within time constraints and with the minister's approval, worship associates have a degree of flexibility in this writing. Some have been deeply personal, others poetic, and still others a different view of the sermon topic. Our congregation has, after a few Sundays, seemed to appreciate and look forward to this new component of our service.
Our goals for the current church year include conducting different kinds of services (beyond sermon-based) and holding services on different days of the week. Together with our minister, we strive to make services at UUMAN, whether on Sunday morning or on Solstice Evening, deeply meaningful, engaging, and important in the lives or our members.
Paula Watson
Worship Committee Chair
A Sampling of Recent Orders of Worship
Order of Worship – January 18, 2015
Order of Worship – February 15, 2015
Order of Worship – March 15, 2015
Order of Worship – April 05, 2015
Order of Worship – May 17, 2015
Order of Worship – August 16, 2015
Order of Worship – October 25, 2015
_____
1 ("Worship Associates Make Services More Meaningful," http://www.uua.org/interconnections/47494.shtml)