Letter from Interim Minister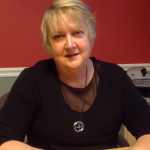 Dear Colleague:
Serving as UUMAN's interim minister is a joy and a privilege. I have been graced throughout my tenure here with unstinting collaborative support from congregational leadership. UUMAN has a history of affirmation and respect for professional ministry.
I'm confident that when the work of the transition period is complete, UUMAN will be ready to welcome its next settled minister. This congregation has embraced many challenges to being a Unitarian Universalist community in the South in these shifting times for organized religion as a whole. Continued attention to social witness, faith formation, and the development of leadership structures that bridge old and new ways of "being church" will enhance UUMAN's future as a potential religious home for many in the greater Atlanta area who have yet to discover this congregation.
I look forward to hearing from you should you become a pre-candidate at UUMAN. My contact information is below.
Best wishes to you in your search for a new settlement.
In faith,
Rev. Cynthia Prescott, Interim Minister
864.207.1286
cynthia.prescott@yahoo.com