Contemplative Practice – Centering at UUMAN
The opening words to our weekly gatherings tells you a lot about this group: "Welcome everyone once again to the centering circle, where we come together to trod those ancient paths wrought before us by mystics and madman, priestesses and saints……..to enter that mystical silence and touch the divine." *
We gather almost every Saturday morning at 9:30 until about 11:15 to 11:30 a.m. We begin with approximately 45 minutes of practice which, among other things, includes a chalice lighting, a short reading, a simple a Capella hymn and thirty minutes of silent meditation. We follow this with a chance for everyone who wants to do so to check in briefly, and then we have an inspirational reading, followed by some free flowing discussion. At the conclusion of the meeting, some go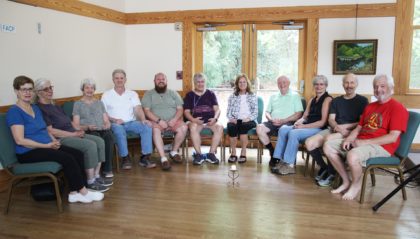 home or off to do their Saturday errands, while others may choose to go to brunch for some extended fellowship time.
In the Centering Circle, we do our best to take inspiration (while leaving behind the dogma) from many different ancient spiritual traditions (ranging from Buddhist to Christian to Humanist and more) as well as from some of the many of the significant and creative present day teachers. If you seek a deeper spiritual experience, this group may be just what you are hoping to find. You are welcome to come and sit with us, no matter what your tradition is, as long as you practice a silent form of meditation.
Are you a beginner with no or little background in meditation? Beginners are always welcome! We ask you to come early on your first visit and be in your seat by 9:00 a.m. for some basic, simple instructions. (After that first visit, you can come at 9:30 like everyone else.) Joining this group might be a good way to you to meet some people with interests similar to yours.
For more information on this program contact Carolyn Bommarito or Mary McGrath via Centering@uuman.org.
* Opening words by Colin Decker