Earth Ministry – 2018 Tubing Trip
Earth Ministry is sponsoring a tubing trip on September 2, 2018 on the Chestatee River outside Dahlonega, GA. This is a fun event for the entire family – young and older. The river is absolutely beautiful; about knee deep in most places and lined with tall trees that provide shade most of the trip.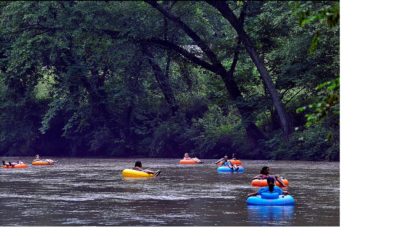 The cost is $6.00/person and includes a tube and the shuttle to the starting point on the river. For those energetic folks you can float down the river multiple times just by walking back to the start along a path beside the river each time you finish.
Plan to meet at UUMAN after service on Sunday, September 2. We will try to leave no later than 12pm and carpool as much as possible. If you want to meet everyone there the location in Dahlonega is 1182 GOLDEN AVE, DAHLONEGA, GEORGIA, 30533 (706-864-7117). The URL is http://canoegeorgia.com/tubing/.  Please let Gus Hadorn (gushadorn@gmail.com) or Bob Popp (bpopp@att.net) know if you are planning to go.