Climate Change Film Screening, Facing the Surge, with filmmaker Diogo Castro Freire
LUNCH, FREE Climate Change FILM & PANEL DISCUSSION
UUMAN Earth Ministry presents
OCT 30, 12:30PM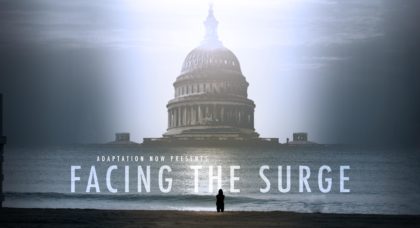 RSVP Below.
Free Climate Change Film Screening & Panel Discussion with filmmaker Diogo Castro Freire.
Attend a free screening of Facing the Surge, an exciting new documentary short film that documents the tangible costs of sea level rise for the people of Norfolk, VA. Norfolk is home to the largest naval base in the country and to thousands of hard-working Americans struggling to adapt to the rising tides and an uncertain future.
But Facing the Surge is not a film about loss and inaction. It tells the stories of citizens from across the United States as they step forward to raise awareness and push their government to pursue real solutions. Meet filmmaker Diogo Castro Freire and Citizens' Climate Lobby volunteers and get your climate change solution questions answered! Learn what you can do to make a difference.
RSVP: http://bit.ly/UUMAN-film