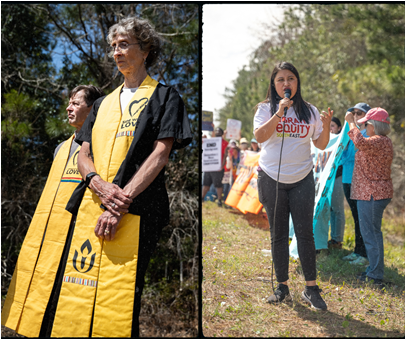 Georgia UU's Show Up as Allies to Protest the Expansion of the
Folkston's ICE Detention Center
I doubt none of us could have imagined the threat our democracy has faced over the past six years.
Justifying their actions under the auspices of preserving "freedom," many have:
Actively supported and justified the actions of those who participated in the Jan. 6, 2021 insurrection
Actively disenfranchised citizens nationwide
Actively taken away control the election process from duly elected election officials nationwide
Actively sought to prevent, threaten to prosecute educators (& librarians) who teach aspects of this nation's history that is deemed uncomfortable
Actively targeted the LGBTQ+ community and its supporters with punitive legislation
Actively encouraged vigilantism against a woman's right to choose
When you begin to threaten librarians, it should be a sign that things have gotten very, very bleak!
This isn't about "freedom" at all. This is about control and power. It is an abuse of power in order to maintain control…maintain control of something they truly fear: a full participatory democracy; a multicultural, pluralistic society where all are given the opportunity to flourish; a coming to terms with our nation's history.
It is our responsibility to push back against this abuse of power. We can't do it all…but we can do our part.
This year, the UUA's Side with Love team is challenging UU congregations to show up in 2022 to vote love and defeat hate as a UU the Vote Good Trouble Congregation! 
What is a Good Trouble Congregation?
UU the Vote Campaign Manager JaZahn Hicks answers:
Good Trouble Congregations are congregations that answer that call to organize their communities and engage in the multiple and necessary tactics that will help us win big for our communities in 2022. Whether you're protecting voter access in Georgia, fighting for reproductive justice in Kentucky, or election protection in Pennsylvania, your work is essential to building a strong movement for democracy.
Good Trouble Congregations will hit at least 4 of these 7 targets as part of the 2022 UU the Vote campaign:
Average 20 postcards or letters per member
Average 200 text messages per member
Average 20 calls per member
Average 20 doorknocks per member
Reach 20 percent volunteer engagement
Average 2 newly registered voters per member
At least 2 congregants are line warmers, poll workers, or poll watchers
Again, hit 4 of 7 of these criteria for special recognition as a Good Trouble Congregation and be invited to a post-Election Day event with UUA President Rev. Susan Frederick-Gray, the Side With Love Team and special guests. 
Let's all do our part to build a multiracial democracy by becoming a Good Trouble Congregation. 
Well said Mr. Hicks!
How might you participate?
Nurture our spirit. Strive for Justice. Transform the world.
Dave